Discover more from LIFE with ROCKY
A newsletter about my journey in life through acting, painting, writing, and everything in between. By Racquel John.
A Daily Reminder to Live in the Moment
This is a gentle day-by-day reminder to redirect your mind to focus on being present.
Lost in the sauce of life, distracted by an overly stimulated society, and bombarded with a million and one ideas. This has become the new normal. Working as much as we can to survive. Only to save up two weeks' worth of vacation time, then right back to the grind. But, even when we are on vacation, it's all about showing it off to the gram because we gotta keep our followers engaged. One thing after the other grabs our attention and pulls our focus away from being present and in the moment.
Life has its way of giving us a daily reminder to live. Sometimes those reminders are small and other times grand, but regardless there's always a lesson to be learned. I've encountered reminders on the grander side of things throughout my life. Reminders that make me think about how short life truly is. In a mind-bending way, society keeps us on a hamster wheel focused only on "living the dream," whatever that means, that we can easily forget how to live intentionally. Sometimes I wonder if I am still on the hamster wheel of "living the dream." But, like I said, life has a way of reminding us to live, and my reminder revealed itself on Sunday.
Sundays are typically dedicated to going to church, family dinners, rest, and maybe some household chores. However, Sunday has become another day for me to finish some work. As I continued investing in myself, I realized how much investing in myself was rooted in work and not much else. I'd talk myself into believing that I must keep working on this idea non-stop so it can yield success. Only to stop entirely because I was burnt out. Our brain can only keep working in one area but for so much. So, on Sunday, in a random fashion, I felt the need to go to the lake. I knew I had to honor the feeling, and so I went.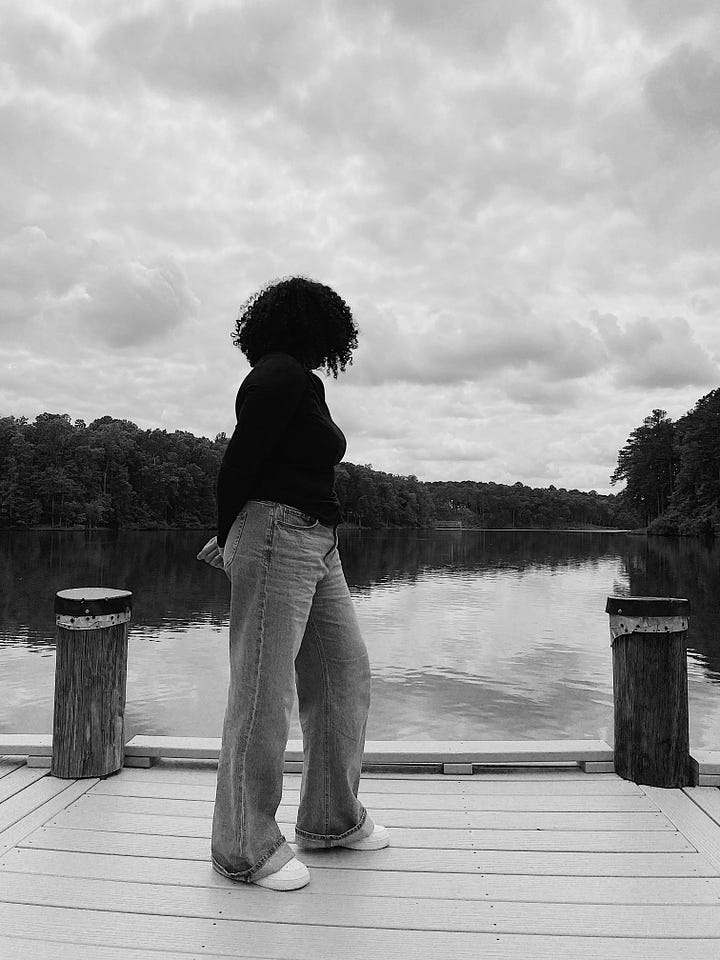 In the car, windows down, hair flowing with the wind, and feeling the breeze on my skin. It gave me a boost of energy. I got so excited that I started to smile at how simple things can truly bring you joy. I'm sure I wouldn't have noticed those simple things if I didn't refocus my mind on being present in that given moment. I arrived at the lake, walked onto the dock, and stared across the water. It was the medicine I needed from having a busy week. I did take a photo to capture this moment and post it to social media, but not for anyone else, but for me. It's my way of documenting and reminding me of such a peaceful moment. My little trip to the lake revealed to me to live day by day. My mind is used to jumping around and worrying about the days ahead with no regard for what is happening in the moment and day I am living. From this point on, I am intentionally focusing on the day at hand and creating a fulfilled life within that day.
Waking up to a new day is a blessing. So, if we wake up to live another day, we only have that day to live. Being present is vitally important. We cannot predict the future or get so caught up in "living the dream" that we completely forget about our well-being. Our mind needs to experience the simple things of life that God has gifted us with, like nature. Focus on being in the moment, releasing your worries, sowing good seeds, doing good deeds, and submerging yourself in nature. Allow yourself to feel genuine happiness in your life by being present. Feed your day with positivity, and you will bear fruit. Always remember to be purposely you.
Thanks for reading Purposely You! Subscribe to receive new posts and support my work.
---
💭 Share your thoughts in the comment section below.
🎧 Also, don't forget to subscribe to the podcast for extra tidbits about each post and to listen to the audio version of each written post. Plus, you can send me a voice message!
💲You can support Purposely You with a contribution of any amount to help keep things flowing.
---
Follow Purposely You on Twitter and Instagram.
📧: purposelyyou@gmail.com