Discover more from LIFE with ROCKY
A newsletter about my journey in life through acting, painting, writing, and everything in between. By Racquel John.
It was a Sunday evening, which meant family time. We always get together as a family on Sundays. Catching up with each other over a home-cooked meal and laughing until our stomachs hurt from telling jokes. But, this time, it was different. Not only was it different because there was no home-cooked meal (the chef👨🏽‍🍳, a.k.a dad, had to work), but it was the first time I was fully present.
We all sat outside around the table playing Gin Rummy (my favorite). A warm breeze flowed every ten minutes, reminding me that fall was just around the corner. Being outside was different for me because I typically convince everyone that we should play cards inside. I'm not a fan of bugs, and in the south, the big bugs come out at night. I didn't want to jump or run because a bug flew by me. If a bug even sounds like it's close to me, I'm ducking out of the way and running inside. Even at a cookout, you can find me safely inside the house where the bugs can't bother me. However, this time, I didn't mind being a bug magnet. I cared more about the time I was spending with my family.
Like I said, this time was different.
Unfortunately, I was losing the game. It seems my chances of winning only happen when it's a two-person game rather than playing against five people. My mom taught us how to play Gin Rummy when we were kids, and we played almost every weekend. I guess you can say it's a family tradition. Baby bro was up next. It's funny when everyone takes their turn because all of a sudden, that person drops into a seriousness that can't be disturbed. Everyone respects the turn. While he was focused on his hand of cards, we were all chatting and dancing to the music that was playing in the background.
My nephew was being passed around the table because no one could resist his cute little face. Eventually, he ended up sitting beside his parents on the opposite side of the table. He made his way into sitting in the chair by himself and started a game of peek-a-boo with me. It was such a precious moment. I'm giggling, he's giggling, and all of a sudden, everything around me starts to shift. I felt my life crash into me as if I wasn't already aware I was living this life.
For a split second, I questioned everything. Who am I really? What do I want out of life? What does life mean? What have I been doing all this time? The questions were back-to-back, as if they were being asked by a child. At that moment, I felt like a child brand new to the world and not knowing a thing about it. I discreetly got up from the table and went inside the house before anyone could notice the tear running down my cheek.
I'm an empath, and with being an empath, I can feel everything. The best way I can describe it is that I can feel life coursing through my entire body, and when that happens, I cry. I've been this way since I was a little girl, so I have a process for when these moments come about. I got into the house, found a quiet space, and took a deep, intentional breath until I was calm. Once I became centered again, I went back outside to finish the game.
Baby bro won the game! He was so excited that he did!🎉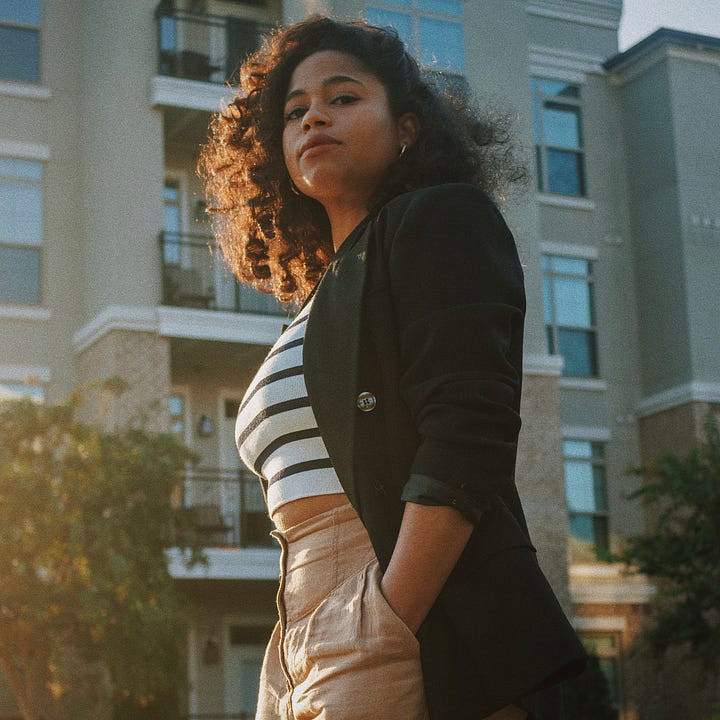 We gathered everything off the table and cleaned up while the music continued playing in the background. It was truly a great night. Anyone on the outside would probably laugh if they watched us leave somewhere after spending time together because the conversation never ends. We all moved outside to the front of the house by our cars, getting ready to go, which was another fifteen-minute process. I kicked off the official departure with hugs and told everyone I loved them. We always tell each other that we love each other after every phone call and gathering. Even if the phone call is for two seconds (totally exaggerating, but not really), we say I love you. Children are blessings and are filled with God's love. My heart melted when my nephew wrapped his little arms around my neck, gave me a big squeeze, kissed me on the cheek, and said I love you. As I'm writing this, I'm getting emotional all over again. I quickly got in my car and completely lost it. I drove home with my playlist on repeat, windows down, and tears in my eyes.
My life crashed into me. Being fully present brought about a deep awareness within me and made me realize that I've spent too much time waiting. I've been waiting for the perfect time to do so many things in my life. I thought I was making the right sacrifices to propel me ahead, but all it did was hold me back. I became okay with turning away from real life and connecting with people to focus on work. I've missed out on amazing trips because I lacked bravery. I used to tell myself that I would have fun after becoming successful. Little Racquel was trying to prove to the world that she could do it instead of proving to herself that she is worthy just by being her, which is as simple as being human.
We are all here to discover ourselves, and that journey will continue until you take your last breath in this physical dimension. There's an entire spiritual dimension that we are all a part of and connected to that is bigger than this place. So, stressing and worrying about societal standards is soul-crushing. We are powerful beings, and that shouldn't be forgotten. It's unfair to ourselves to put our life on hold for worldly success.
I've been renewed by this awakening. The clarity and joy I feel for my life are so exciting because I trust God and where He is guiding me to go. There's something so freeing about not knowing what's next but knowing that I will be okay no matter what because life itself is a journey of discovery. I'm discovering every part of me through the gifts God has given me. From this point forward, I will live my life and do it with a smile.
💭 Have you ever felt like your life crashed into you? If you resonate with this post, please share your thoughts in the comment section.
📢 I am expanding my newsletter and will be offering exclusive content very soon. You can pledge your support monthly or annually or become a founding member. Your support means everything to me, and I am truly grateful to all of you!