Discover more from LIFE with ROCKY
A newsletter about my journey in life through acting, painting, writing, and everything in between. By Racquel John.
Hate is a strong word, but I really do hate when I become distracted. Especially when I'm in a creative flow, which is all the time. So, distractions are my kryptonite. I mentioned on one of my podcast episodes how I figured out that I'm a "hyper-creative." My brain is really active and always comes up with new ideas or endeavors for me to try. I'll write down whatever comes to me so I don't forget it, but some ideas stand out to me more than others. Those are the ones I tend to take action on first. However, when "life things" happen, it pulls my focus, and I become distracted. Then those fresh ideas become a fainted memory as the unproductive days go by. Leaving me feeling unaccomplished and stuck in a fog.🌫
I'm a very reflective person. So when "life things" happen, I tend to sit with it for a while and allow myself to process the situation, but I wasn't always that way. As a kid and even throughout my twenties, I suppressed my feelings about what I was experiencing in Life. I didn't want to come off "negative" or burden anyone with my sensitivity. However, holding my feelings in and not allowing myself to process them externally led to major breakdowns. It kept me in an unproductive state for a long time. Now, I process my feelings as "life things" happen. That way, I don't have to face them later. Yet, I still deal with unproductive days, although the days have shortened.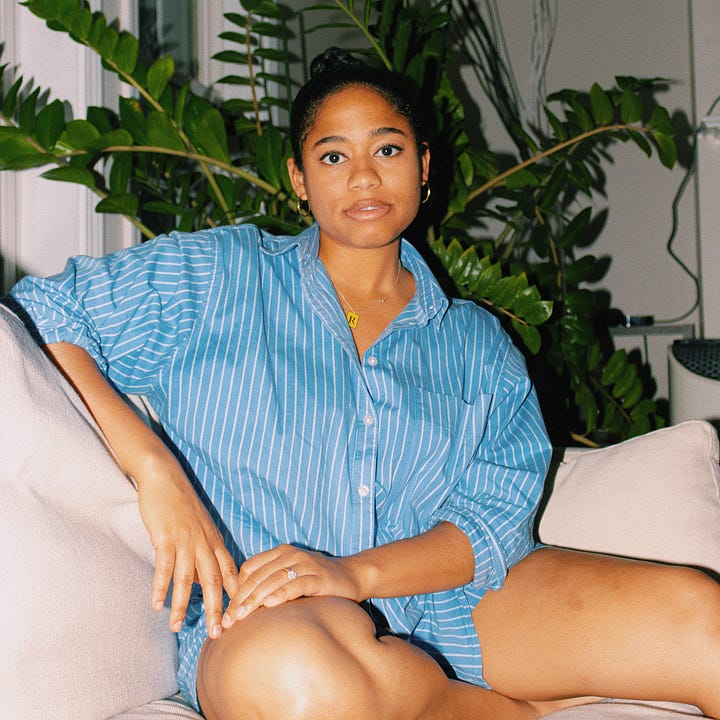 Finding my momentum again after processing a "life thing" can be challenging. I just spent most of my time and all of my energy addressing a situation. So jumping back into a creative flow of a new idea isn't always easy. Sometimes it takes weeks before that spark comes back and everything is clear. That's the part that I hate about distractions. It pulls my focus for days or weeks at a time. The mission is to find a way where I can process my emotions from a "life thing" and still get things done.
Whenever I need an answer, I turn toward my internal world and God. I'll ask a question over and over again while sitting in silence to hear the answer. The answers we seek are already within us. It might be hard to believe, but we know what we need to heal, succeed, and recover from anything that comes our way. Knowing this, I asked my question and got my answer. The answer was loud and clear — set boundaries.
When "life things" happen, process what you feel, get it out externally, and set boundaries. Setting boundaries within your external world will help you stay consistent with your internal world. Your peace will be kept, your ideas will stay fresh, and the distractions won't be too distracting. Try your best not to allow "life things" to distract you and pull you away from your flow. I promise you will feel more fulfilled by accomplishing what you were going to work on before the distraction showed up. Don't allow anything to pull you from your greatness, even the "life things." Always remember to be purposely you.
Thanks for reading Purposely You! Subscribe to receive new posts and support my work.
---
📢 Announcement:
Hey, Good People!👋🏽 If you are in Atlanta or will be in Atlanta on June 25th, you should come by The Collection: Fashion Show and Vendor Market. I'll be there with the first-ever Purposely You Experience. Come by and see what it's all about. There will be many talented and creative women showcasing their businesses. Get your tickets now! See you there!😁
---
💭 Share your thoughts in the comment section below.
💲You can support Purposely You with a contribution of any amount to help keep things flowing.
---
Follow Purposely You on Twitter and Instagram.
📧: purposelyyou@gmail.com